You're ready. 
You're taking the big leap.
You're all in. 
It's time to scrap your old website and begin planning for a web redesign.  
And now that you've established that it's time to start fresh and breathe some new life into your online presence, you're likely wondering where the heck to start. 
Any good web redesign requires a little bit of preparation (okay, a lot of preparation). Some of these steps will help get you moving in the right direction.
Determine Who Will Redesign and Build Out Your Website
If your company has digital designers and a team of web developers on staff, you're all set up for an in-house redesign effort. But if that's not the case with your business, you're probably going to need a web marketing agency to help you redesign your website. (HINT: we do this.) 
A web and digital marketing agency can help you define the project scope and content needs and will work with you to determine a timeline for completing the redesign. 
Some of the points in this post might sound a bit overwhelming. Don't sweat it. A web marketing agency can simplify and handle these steps for you.  
How Will You Update Your Site?
If your website isn't currently in a content management system (CMS), now is the time to look at moving it into one. The benefits of a CMS are many. 
This is another item that the web marketing agency you choose will help you deploy.
Establish Your Website's Look and Feel 
The desire to have a fresh new look is often a driving force behind the decision to move forward with a site redesign. Now's the time to think about how the site will look and how it will speak to your audience and to update any outdated functionality. 
Make Your Site Responsive – With so many users surfing the web on their cell phones these days, you'll want to make sure your website is mobile friendly and can be viewed on various screen sizes. 
Target the Right People – Make sure the colors, fonts, images, etc., speak to your target audience. For example, pink is likely not the best color choice for a website that sells lawn mowers.
e-Commerce – If you sell your products online, a web redesign is the perfect time to streamline your user's shopping experience. Evaluate product categorization, ease of searchability and shopping cart functionality.
Marketing Automation – Create landing pages, build email lists and integrate your online and offline capabilities by adding automation tools to your site to help you capture leads and grow your business. 
Get Your Content Ready 
Web redesigns aren't just an opportunity to make your website look pretty. Take this opportunity to evaluate your content. Is your content well written? Does the tone make sense for the audience you're targeting? Are you missing information about what you do or sell? Start scrapping old content now and get to work on writing a fresh copy. 
As you're churning out new content and updating the old, take the time to optimize the copy with keywords. That's basic Search Engine Optimization 101. 
And also look at which pages are performing well, and which ones could use a boost in the SEO department.
Speaking of SEO… 
Search Engine Optimization (SEO) in Website Redesigns
A website's structure can have big impacts on SEO, so when you're looking at redesigning your site, also look at how it's organized. This is also called "information architecture." 
Ideally, your site will have multiple layers and sublayers. So, if you're mapping it out, your site might look like this: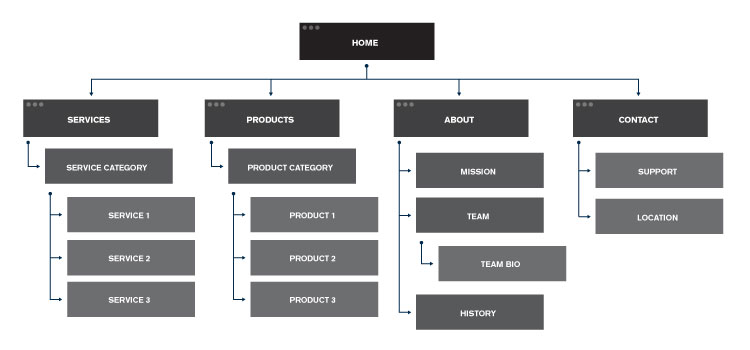 This hierarchy and categorization will define what the website's URL will look like, so make sure the levels make use of relevant keywords when naming your subdirectories and pages. 
This image does a good job of breaking down the URL structure:
Help Getting Started with Your Web Redesign
Yes, there is a lot to think about before launching a website redesign. The effort you make prior to starting the project will greatly simplify the buildout process. 
Do you need assistance with your redesign? We're happy to help you get started.